Since 1992, the Pinckney Lions Club has hosted the Annual USA Day celebration in the Town Square Park.
Events include:
The Watermelon Eating Contest....He who eats the most wins!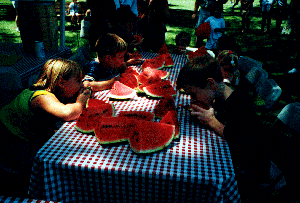 ARTS & CRAFTS- Plan on a fun filled day at the downtown park in Pinckney
among arts & crafts exhibits featuring many hand made items of various kinds
such as fine paintings, photography, jewelry, pottery, wood working,
metalworking, fabric & glass. You'll enjoy the unique opportunity to see what
many local artists have made
Dinosaur Dig- Bring the kids for the Dinosaur Dig- children between the ages of 3 and 7.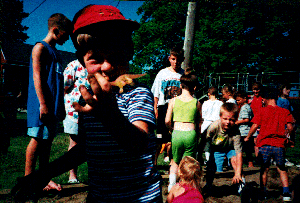 MARIACHIS 90-The Authentic sound of Mexico, presented by a costumed 9 piece live band. Be sure to enjoy this event next to the gazebo in downtown Pinckney.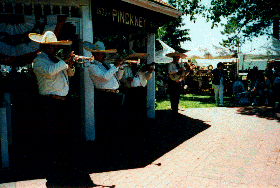 TREASURE HUNT- Kids between the ages of 8 and 12 will enjoy the annual
Treasure Hunt.
KIDS' RED, WHITE & BLUE BICYCLE PARADE-
Meet behind the Village Police
Department.
See all the custom decorations just
for the holiday!
GARY & HIS GUITAR- Music of all varieties...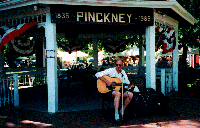 MAGIC ACT- Jeff Boyer, award winning magician, will present magic, balloon
tricks and a few special surprises with audience involvement.

LION'S AUCTION- at the gazebo.

PET PARADE-Valuable coupons, plus ribbons will be awarded for the best
groomed pets, decorated is red, white and blue colors. All entrants win
prizes. Pet parade assembles in front of the gazebo. No size or other
restrictions on pets. Judging based on grooming, disposition and decoration.

Special thanks to all the companies who have contributed toward decorations &
prizes.